Features
Make sure this fitsby entering your model number.
DURABLE MATERIALS – The reusable work gloves are made of natural rubber. Superior flexibility with ergonomic design reduces fatigue in hands while working with your gloves. The stretchy knit wrist cuff makes them a snug fit and prevents dirt and debris from entering the gloves.
15 GAUGE NYLON & SPANDEX LINER – With 15 gauge seamless nylon and spandex liner, the rubber coating gloves are breathable and comfortable, easy to pull on and off, can keep hands cool and dry. You will be able to wear these gloves for long periods of time without discomfort.
GREAT GRIP – The non-slip textured rubber latex coated palm garden gloves offer good grip to grab the wet and greasy parts. They passed level 2 (at least 500 cycles) of abrasion resistance test, level 1 (1.2 index) of blade resistance test, level 3 (50 newton) of tear resistance test and level 1 (20 newton) of puncture resistance test.
MULTIPURPOSE – The latex work gloves are silicone free, ideal for handling mechanical manufacturing, mining, metal processing, agriculture, farm, gardening, construction, automotive repair, logistic, assembling and finishing, carpentry, warehousing, forestry and more.
CERTIFICATIONS – LANON industrial gloves for hand protection are certificated by CE CAT II, with Standards EN 388:2016, EN 420, and meet CA Prop.65 regulations for phthalates.
Product Images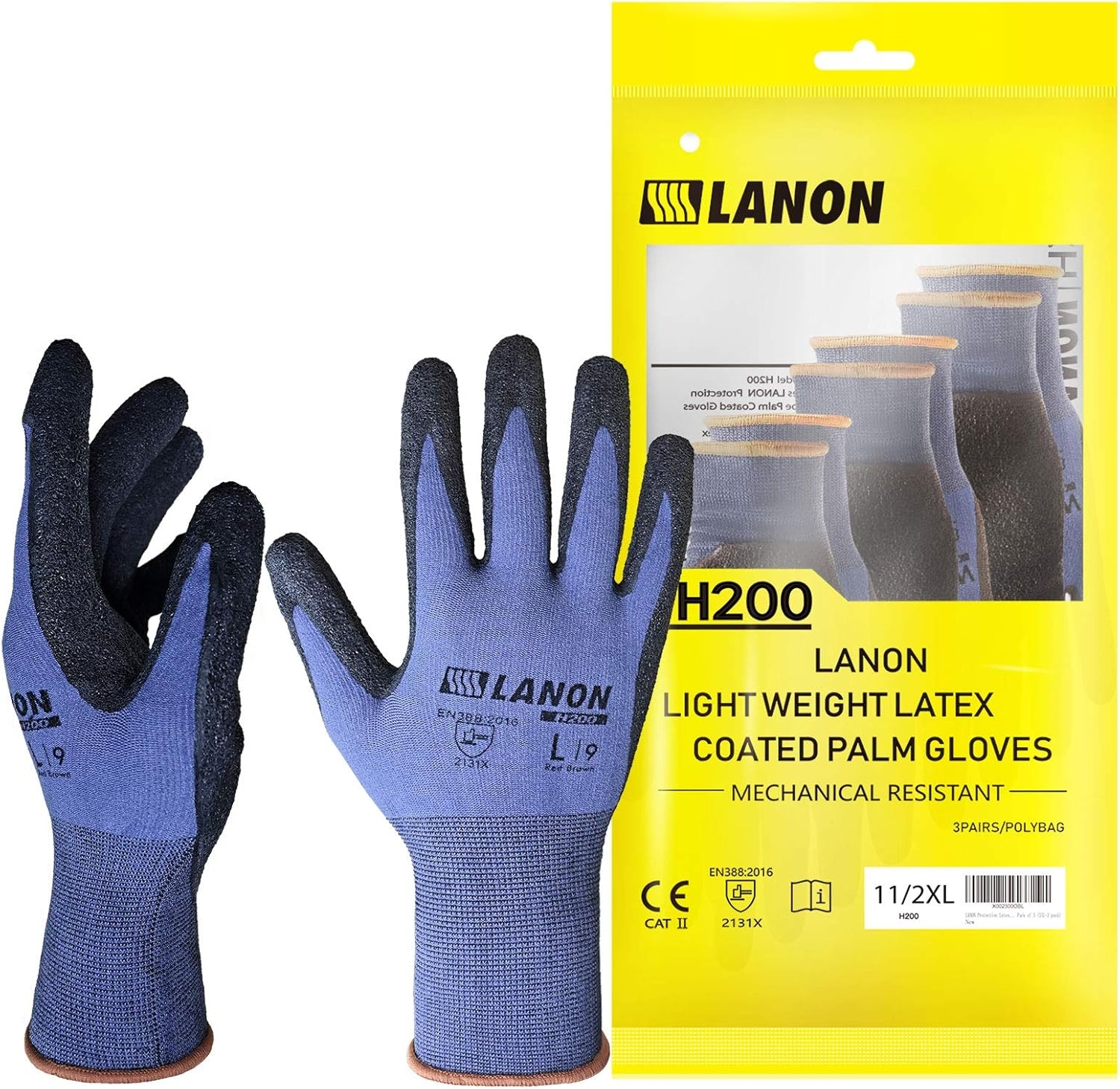 Product description
LANON Safety Work Gloves
As an experienced manufacturer, brand, since 1958, LANON is committed to providing the best personal protective equipment (PPE). LANON safety work gloves offer comfort and protection to hands in a wide variety of work. Our gloves are flexible and ease of use that help you do the job more efficiently.
LANON Natural Rubber Crinkle Finish Safety Work Gloves H200
3D Seamless Elastic Fit, Textured Rubber Latex Coated Palm, Nylon and Lycra, Breathable, CE-certified
LANON Safety Work Gloves H200 are made of 15 gauge lycra / nylon with textured rubber latex grip on palms and fingers, provide a secure grip under dry and wet conditions. They passed level 3 (50 Newton) of the tear resistance test, are suitable for a wide range of lightweight applications, allow heat contact to 250 ℉.

3D Seamless Elastic Fit

15 Gauge Lycra / Nylon

Textured Rubber Latex Coated Palm

Flexible Elastic Wrist

Excellent Tear Resistance

EN 388:2016 2131X

CE-certified
FEATURES
3D Seamless Elastic Fit

Unique two-needle knitting technology enables smooth, comfortable and non-abrasive interior.

Holds gloves firmly to the wearer's wrist. Improves fit and reduces slippage.

Contoured hand-shaped provides excellent flexibility, sensitivity, and tactility.

Lycra and Nylon

The gloves are breathable.

Lightweight for optimum comfort and flexibility.

Seamless Lycra and nylon liner for an ergonomic fit.

Work faster and safer with gloves that fit like a second skin.

Natural Rubber Crinkle Finish

Crinkle finish offer excellent grip under wet and dry condition.

25% better tear resistance than most gloves on the market.

The most breathable glove on the market today.
APPLICATION, CERTIFICATION, PACKAGE
Ideal Application

General handling

Warehouse and logistic work

Construction works

Gardening

Construction works

CE-certified

Mechanical hazard EN 388:2016.

Abrasion resistance — Levels 2

Blade cut resistance — Levels 1

Tear strength resistance — Levels 3

Puncture resistance — Levels 1

Cut Resistance method (EN ISO 13997) — X
H200 Textured Rubber Latex Coated Safety Work Gloves
H100 Micro-Foam Nitrile Coated Safety Work Gloves
H101 MicroFoam Nitrile Coated Palm Cut Resistant Gloves
H300 Reinforced Thumb Crotch Cut Resistant Gloves
H400 Food Grade Cut Resistant Gloves

Material

Nylon, Lycra

Nylon, Lycra

Nylon, High-Pressure Polyethylene

Nylon, High-Pressure Polyethylene

Nylon, High-Pressure Polyethylene

3D Seamless Elastic Fit

✓

✓

✓

✓

✓

Coating

Textured Rubber Latex

Nitrile Micro-Foam Grip

Nitrile Micro-Foam Grip

PU

None, Food Safe

Gauge

15

15

13

13

13

EN 388:2016 (Abrasion/Blade/Tear/Puncture/ISO Cut Resistant)

2131X

4121X

4X44C

3X42C

3X3XC

EN 388:2016 Cut Resistance

None

None

Level C

Level C

Level C

Color

Dark Blue, Black

Light Tan, Black

Blue, Black

Light Blue, Black Grey

Blue

Applications

General Handling, Warehouse and Logistic Work, Construction Works

Automotive Industry, Gardening, Slightly Oily Environments

Glass Manufacturing, Wood carving, Steel Industry

Automotive Industry, Press and Stamping

Kitchen, Mandolin Slicing, Fish Fillet, Oyster Shucking, Meat Cutting

Packaging

3 Pairs

3 Pairs

1 Pair

1 Pair

1 Pair
---